Spark is a motivation app designed to ignite your goals.
    


Project Overview
Multi-platform user experience centers below 3 axis:
    -   Divides big goals into achievable tasks
    -   Tracks users' progression with reports
    -   Inspires users with workshops, jobs and peers support
Online surveys were conducted by 157 participants to find out their goal settings, determination and success rates.
    -   Large goals feel overwhelming
    -   It is easy to lose motivation
    -   It is hard stick with their set goals
    -   Apps lose their value after initial curiosity 
    -   1 in 4 abandon an app after their first use​​​​​​​
Jacob Jensen, our persona, 35 yrs old banker who is looking for a more creative career path. Spark helps him to divide his goals into small achievable tasks with reminders and reports to show his progress.
Spark allows users to set their goals with preferable duration. The app breaks down users' goals into "micro-tasks" that encourage continual small wins. An in app chatbot acts like a motivator to remind users to complete their tasks and to monitor their progress. Users receive support, tracking tools and mentorship throughout their journeys. 
Design elements and tools 
The UI has to be user friendly with minimal on boarding required. It also has to be motivational with carefully chosen notifications so the users would not feel undermined through
from preference settings. 
Most of the design elements are done in Sketch and Adobe Illustrator.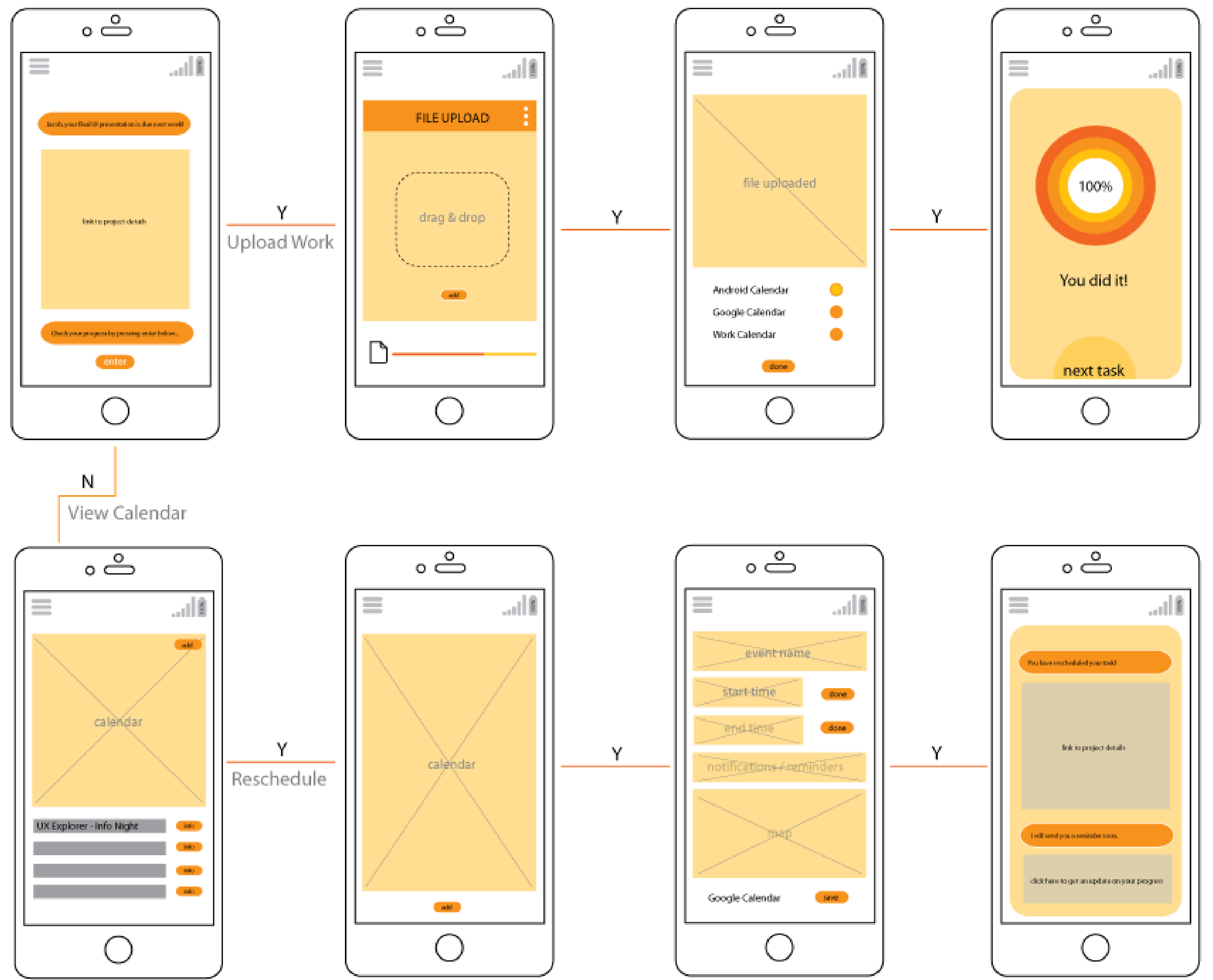 The prototype was tested by 20 users in their 30s in both males and females. Though the reviews and experiences were positive, there were concerns around the complexity and the flow of the app. Users were not quite sure what to to do next.
Concern V2:

Users did not anticipate this would sync to the phone calendar by selecting the + icon.
Solution V4: 
Built an active message/button in the dialogue box to take the users directly to the phone calendar. 
Clarity around what would trigger opening the phone calendar to schedule a reminder.
Concern V1:

Users knew the timer is to keep them on track of their tasks. The confusion was the button "done".
Solution V2: 
Made the timer larger and changed the verbiage of the buttons. 
Users now know by clicking on "update status" will automatically send feedback to their weekly and monthly trackers.
Concern V1:

The confusion was around the same tasks being reminded twice on the screen.
Solution V3:

Simplified the UI design by trimming the repetitive information and utilized matching colors to speak to the users. 
Using colors to highlight the tasks so the users understand the language better.
Concern V3:

Too much information provided to the users between job search results and maps.
Solution V5:

Provided the job search results with buttons - apply and map. 
The quick apply button will upload users' resumes and portfolio. The map button will take users to Google Maps. 
App Features and Highlights
    -   Users start with free basic app
    -   App becomes robust with enhanced features
    -   More functions being added to keep engagement
    -   New features release quarterly to stay competitive
    -   Social media partnerships for networking and jobs​​​​​​​

    -   Smart TV and Smart Watch
    -   It allows users to work on goals from other devices
    -   NFC technology shares progress and work seamlessly
    -   Gives users a more interactive experience