Outside is a new interactive app / guide to all local parks and U.S. national parks with points of interest from Gettysburg battlefield to Old Faithful to Tilden Regional Park.
Project Overview
It utilizes the OpenStreetMap.  An open source mapping project to allow hikers, bikers and campers to modify and update unexpected changes during their journeys. 
Competitor assessments allow me to find out the users' past experience with U.S National Park Service and Mountain Hub apps to further understand their pain points. I have done five one-on-one interviews with regular hikers and campers, 3 males and 2 females, in their 20s to 30s along with app reviews from existing users. The users' feedback, interviews and reviews - set the core principles of our new app and their current pain points helped us to develop an original product to set us apart from a saturated app market.
Users' reviews on competitor apps
U.S National Park Service and Mountain Hub
    -   Users state most maps are not up-to-date     
    -   Fear of getting lost once service is dropped     
    -   Most outdoor apps rely on mobile service / WiFi     
    -   Users want P2P support - reviews, photo sharing     
    -   Users feel frustrated and ultimately abandon apps​​​​​​​
​​​​​​​
Market Segment
    -   Our target market 18 to 55 years old     
    -   Intermediate to advance hikers and backpackers 
    -   Looking to learn and share their knowledge
    -   Tech savvy professionals, enjoy the outdoors     
    -   Enjoy from local hikes to camping to long road trips
Heidi Snow, a regular camper persona, 27 yrs old planning her camping trip from home. She encounters a fallen tree on a trail. Heidi updates her location to OpenStreetMap with a photo. OpenStreetMap sends her an alternative to safety.
Nature / Sun / Forest / Shades of green / Light and Airy
OpenStreetMap would allow users to navigate trials from pre-loaded maps with GPS enabled and can update maps in real time. The app has original content to National Geographic & U.S National Park Service apps.
    -   Users can input destinations in advance on maps          
    -   We partner with OpenStreetMap for live updates           
    -   Downloaded maps can be edited with GPS  
    -   Pre-loaded maps can be used in cache mode     
    -   Features: trail reviews, photos and live video sharing
Design elements and tools
I wanted a simple UI design with colors that can be found in nature. I used Adobe Illustrator to create my logo and the mountain background as the core of my UI. I imported my design elements to InVision to create my prototype.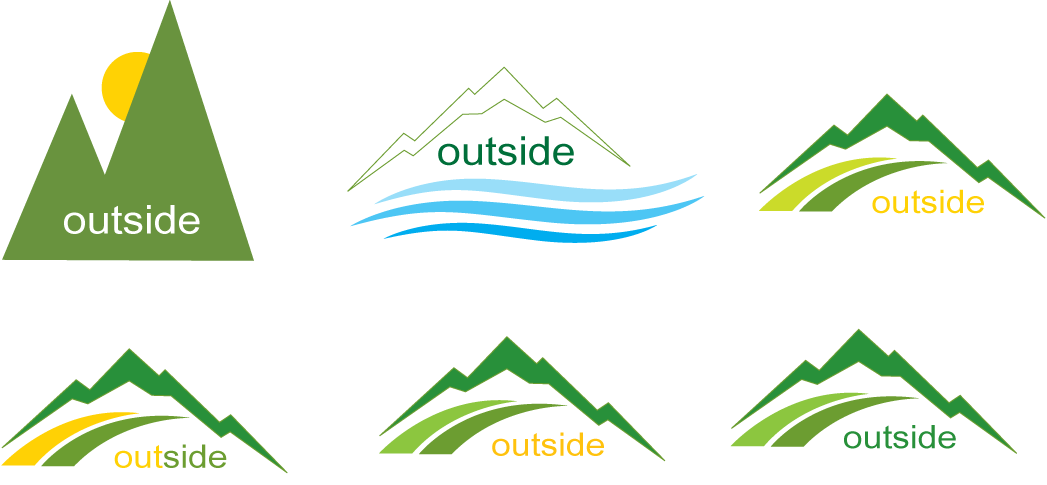 -   Left: create a new account manually.
     -   Right: create new account with Facebook / Google+
User Testing Deliverables
     -   Prototype was tested by 30 users     
     -   Valuable feedback contributed the overall design     
     -   Users' participation identified needs and ideas     
     -   Data analytics helped to better the product flow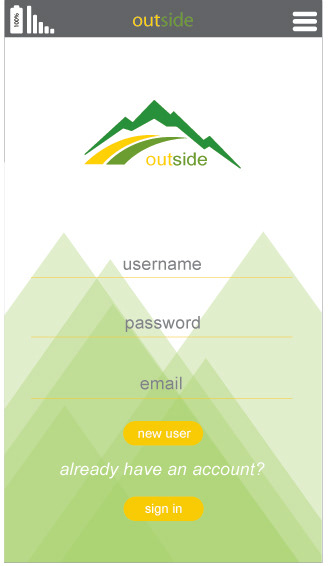 -   Version 1: The dark bar looks heavy and distracting.
     -   Version 2: Facebook and Google sign in should be a standard.
     -   Minimized and lightened up the overall UI.
     -   Reworked the colors and made the font more legible. 
     -   Added Facebook and Google+ as sign in options.
-   Version 1: Users are already in dashboard so the option for dashboard is redundant.
     -   Version 2: The buttons are too small.
     -   Created a hamburger menu with buttons nested inside.
     -   Removed less important items to streamlined the UI.
-   Version 1: The satellite map and direction icon are too hard to read.
     -   Version 2: The search screen should be the landing page.
     -   Made this the landing screen with cleaner UI.
     -   Simplified map and increase contrast for icons. 
     -   Designing / engineering
     -   Extended review of the app
     -   Monitor app performance
     -   Iteration / improvement